The Secret Life of America's Most Famous Hotel
The account of one vaunted New York City address that has become synonymous with wealth and scandal, opportunity and tragedy.
From the moment in 1907 when New York millionaire Alfred Gwynne Vanderbilt strode through the Plaza Hotel's revolving doors to become its first guest, to the afternoon in 2007 when a mysterious Russian oligarch paid a record price for the hotel's largest penthouse, the eighteen-story white marble edifice at the corner of Fifth Avenue and 59th Street has radiated wealth and luxury.
For some, the hotel evokes images of F. Scott Fitzgerald frolicking in the Pulitzer Fountain, or Eloise, the impish young guest who pours water down the mail chute. But the true stories captured in THE PLAZA also include dark, hidden secrets: the cold-blooded murder perpetrated by the construction workers in charge of building the hotel, how Donald J. Trump came to be the only owner to ever bankrupt the Plaza, and the tale of a disgraced Indian tycoon who, having never even slept at the Plaza, buys the hotel anyway, then proceeds to rule over it from his jail cell in Delhi.
In this definitive history, award-winning New York Times journalist Julie Satow pulls back the curtain on Truman Capote's Black and White Ball and The Beatles' first stateside visit — she also follows the money trail.
THE PLAZA reveals how, during the Great Depression, it was a handful of rich, dowager widows who were the financial lifeline that saved the hotel, and how foreign money and the anonymous shell companies of today have transformed the iconic guest rooms into condominiums shielding ill-gotten gains — hollowing out parts of the hotel as well as the city around it.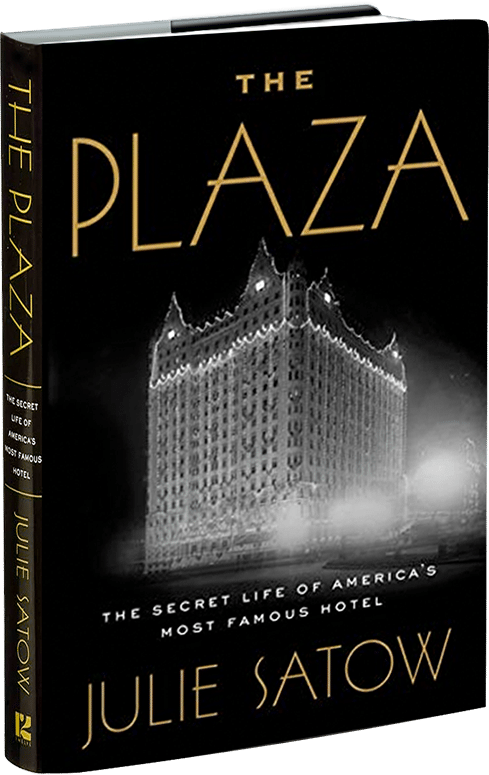 [A] lively and entertaining portrait . . . Ms. Satow's book draws the reader in from the start . . . a superb history of how a once magnificent property became its own Potemkin village, a grand luxury hotel on the outside, a hollow shell within.
— The Wall Street Journal —
Readers will happily soak up period details and take notes on how the stalwart staff dealt with class snobbery, prohibition and gangsters, wartime privations, the turbulent 1960s, wealthy dowagers, blushing debutantes, persistent groupies, omnipresent prostitutes, and brawling Indian billionaires. This is social history at its best: thoughtful, engaging, and lots of fun." — Booklist (Starred Review) "THE PLAZA reads like the biography of a distant relative as much as the history of a landmark building; the hotel feels alive to anyone who loves it. It's a wild and sometimes vicious life, but so affectionately told that you might come out of the chaos still wanting to visit the old place, after all."
— NPR —
The Plaza Hotel has a long, sometimes storied, sometimes sordid history. All of it is compelling. People often use the expression, 'If these walls could talk . . .' Reading Julie Satow's wonderful and revelatory history of the fabled hostelry, I couldn't help but think that they'd talked— a lot— to her."
— Michael Gross—
New York Times bestselling author of 740 Park and House of Outrageous Fortune